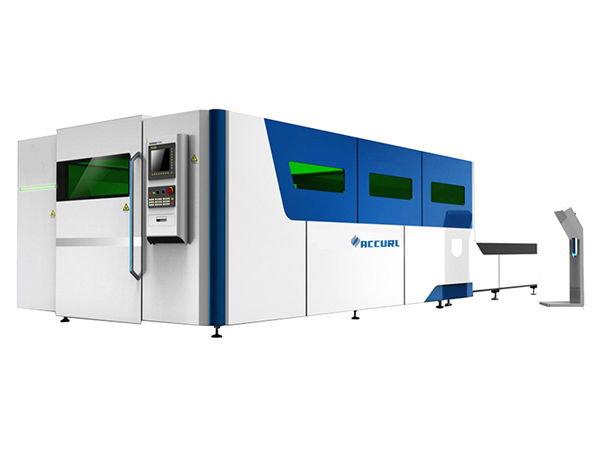 Product Details
---
Certification: ISO9001:2008
Payment & Shipping Terms:
Minimum Order Quantity: 1
Price: negotiation
Packaging Details: Wooden case
Delivery Time: 7-15 days
Supply Ability: 1 units/ month
Detailed Product Description
---
Product Name:
3015 Fully Enclosed Exchange Table Fiber Laser Cutting Machine From 1kW To 4kW
Laser Power:
1kW To 4kW
Laser Wavelength:
1080nm
Working Area:
3000*1500mm
Cutting Head:
Raycools
Chiller:
S&A
CNC Cutting System:
AHEADCUT
Product Desciption
---
Fiber laser cutting machine is popular in various fields such as advertising trademark, advertising character, high/low voltage electrical cabinet, mechanism parts, kitchenware, cars, mechanical, metal craftwork, saw blade, and so on. It is able to various metals like stainless steel, carbon steel, alloy steel, spring steel, aluminum, aluminum alloy, galvanized sheet, pickling plate, copper, silver, gold, titanium and other metal sheet, pipes and tubes, etc.
1. Our machine adopts moving gantry structure , imported high-precision screw and linear guide ,smooth transmission, high precision .
2. With the moving beam as a whole welded structure , roughing after annealing , and then the vibration aging treatment, our machine bed can completely eliminate the stress of welding and machining ,good rigidity, high accuracy can be maintained for a long time does not deform .
3. X, Y, Z axes are imported from Japan servo motor, high-precision, high- speed, high-torque, high inertia, stable performance and durable to ensure the machine's high speed and acceleration.
4. Using many laser cutting control special function modules , powerful , human machine interface , easy to operate based on the Windows operating system , fiber laser cutting machine CNC system integrated.
5. Independent research and development of personalized nesting software , CNC cutting machine to achieve " full-time cutting, efficient cutting and high nesting rate cut " core technology is the fundamental guarantee of effective material savings, improve cutting efficiency.
6. Adopts Raytools fiber laser cutting head and capacitive sensin , induction of high precision and responsive, performance more stable and reliable.
7. Imported high precision electronic control proportional valve , precise control of the cutting auxiliary gas pressure ,in order to achieve the best cutting results.
Specifications
---
| | |
| --- | --- |
| model | 1530 |
| Laser wavelength | 1080nm |
| Cutting thickness | 0.2-16mm |
| Laser output power | 1000W |
| Maximum processing range | 3000 *1500mm |
| Machine drive mode | imported rack gear and pinon drive |
| Y X. axis positioning accuracy | ±0.01mm |
| X.Y axis repeat positioning accuracy | ±0.01mm |
| Power supply mode | 380V / 50Hz |
| Maximum cutting speed | 45m/min |
| Minimum cutting line width | 0.02mm |
| Cooling mode | 3P Water cooling |
Aheadcut usa cnc controller
---
This system use US cutting edge(Aheadcut)CNC cutting system, international leading architecture based on EtherCAT industry bus,data transmission fast security and stability, is widely used in various precision control and processing areas.WINDOWS as a platform, with open structure, simple operation, easy to learn, is the biggest difference between CNC system and the traditional number Control system. The system provides machine parameters, PLC program, user-friendly according to their needs to configure and adjust Test, to achieve complex functional requirements of the machine. Basic hardware configuration:
CNC control unit(industrial control computer);
Interface module(I/O module and axis control module) ;
NC operation panel, wireless operation box;
Relative standard cable (display cable, operation cable, power supply wire) .
Basic software configuration:
CNC software operation platform(XP/WIN7)
Raytools cutting head
---
Cutting head using RAYTOOLS Swiss designed Fiber laser cutting dedicated cutting head to ensure high accuracy and efficiency for cutting. The cutting head is equipped with a non-contact capacitive sensing device. Can be achieved very stable Z-axis automatic tracking function, eliminating the influence of cutting due to asperous plate, and then improve the qualification rate of products. Laser cutting machine is equipped with focus lens , to meet the customers needs of cutting plate. Lens replacement using drawer type, the entire replacement process very convenient and fast. Optical system has the advantages of high efficiency, stability, calibration, maintenance and so on, the entire optical system is protected by clean positive air to ensure that the optical lens and nozzles are not contaminated.
Accessories
---